I love a new year. That's when people are their most hopeful, setting goals and making promises. The only New Year resolution I allow myself is the number of books I plan to read in a year. For the past two, it's been 150. A difficult number to pass, no matter how much I love to read. I'm off to a good start though. And I'm hoping I can keep up this momentum.
Sins & Needles by Karina Halle
The first romance novel of the ArtistsTrilogy
2 STAR RATING
BOOK CLUB PICK
This is not the book I thought I would be reading. From the title and cover, it seemed like an erotic romance with a little BDSM thrown in. But instead, I got two ill matched jerks running for their lives. Ellie and Camden are two of the most annoying love interests I've ever read. And the plot was not doing it for me. Revenge plots, thieves, mafia? No, thank you. Now that ending did leave me a little curious about what will happen next. But I'm going to have to pass on this series. I'll assume Ellie and Camden end up together in the end. Don't really care if I'm wrong either.
Minion by L.A. Banks
The first supernatural novel of the Vampire Huntress Legend series
4 STAR RATING
BOOK CLUB PICK
Damn it. I was not trying to get caught up in ANOTHER series but here I am. I'm starting off the new year with a new obsession. Vampire Huntress Legend reminds me of the Anita Blake series but with a diverse cast. I just hope the awesomeness of this first novel carries throughout the books to come. I can't believe I waited this long to read it. Here's hoping Damali and her crew keep me interested.
Deadman Wonderland Vol 10 by Jinsei Kataoka
Ganta decides to go back to Deadman Wonderland to face off against the Wretched Egg
3 STAR RATING
I was scared for a second that Senji was going to bite the dust but thankfully he's still breathing. I can already tell the last three books are going to be a roller coaster. This volume was a bit slow paced but I know it's setting up for an epic finale. Here's hoping my favorite characters live through it.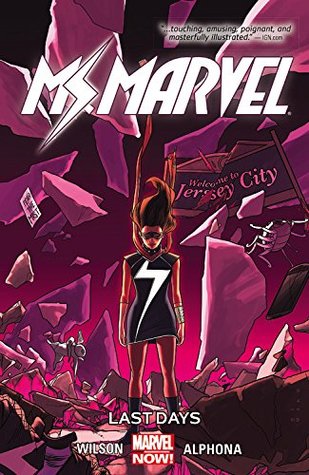 Ms. Marvel Vol 4: Last Days by G. Willow Wilson
Kamala must decide to still be a hero when the world is threatened
4 STAR RATING
I am loving the cover. It's dark purples and dejected looking Ms. Marvel have me feeling anxious before I even open the comic. And the story itself is awesome. It met my expectations. I was thinking this might have been the last volume of the series so my sights were set on a finale. Now that I know another book is going to be released, I'm happy with the way this ended. It's a bit of a cliffhanger which usually puts a book on my naughty list but I wasn't too mad at this one. I'll just be impatient to see what happens next. And that bonus chapter with the Spiderman crossover was awesome. I love seeing Kamala work with other super heroes.