A few books I've read have been long overdue so I decided to get buckle down and go through them. Thankfully, they were all really good.
Midnight Crossing by Charlaine Harris
BOOK CLUB READ
3 STAR RATING
After a month, I have finally finished reading this damn book. I was just interesting enough to keep me from giving up on it but boring enough that it took me forever to get through. The characters were likable enough. The author failed to flesh any of them out. For this to be the start of a trilogy, the narrative and tone and plot were all over the place. It didn't flow like a novel should. It felt jerky and rushed. The ending seemed forced, like the author forgot this started as a murder mystery. The big question I have is: should I read the other books? I have been going back and forth on this last the past week and I still don't have an answer. I will order the next book and read the first few chapters. It's the beginning doesn't grab my attention, I'm gonna give this trilogy a hard pass.
Homegoing by Yaa Gyasi
E-AUDIO
5 STAR RATING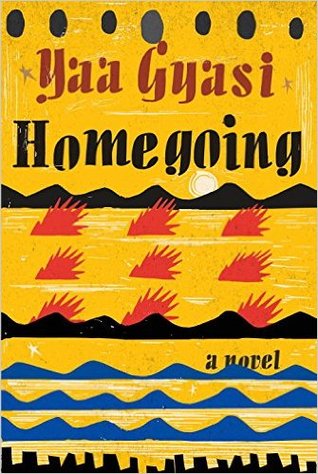 What am amazing book. This novel just punched me int he gut over and over again. If you're not in the mood to cry or be angry or be emotionally devastated, this is not the book for you. It does not shy away from a brutal history and an equally hard present. But it's still a feel good read. Each ancestor shows you that life has its ups and downs. You only have to believe you are worth it and deserve to have a full life. The last chapter didn't go how I expected it but it still had a strong impact on me. I wanted the lost black stone to be found. But in a way, it was. These characters stories were about coming home and that's what ultimately happened.
One-Punch Man Vol 6 by ONE
5 STAR RATING
Saitama is such a comic relief. Everyone around him takes themselves way too seriously. he just wants to protect his city and beat up bad guys. He's my favorite manga character of all time right now. The other S class heroes are all entertaining though. I'm loving Terrible Tornado. She's a bad ass that's putting all these men in their place. No wonder she's ranked number two.
Vol 7
4 STAR RATING
This volume was shorter than the last one, with a few bonus chapters added on to fill it out. The bonus chapters were the highlight of the book. It really shows how good of a person Saitama is. He's so humble. The big bad was defeated, no surprise there. I am curious to see how Metal Knight and Genos will become enemies. As long as Genos comes out on top, I'll be happy.
Wild Swans by Jessica Spotswood
4 STAR RATING
Reading the summary of this book, I knew it would make me mad. The premise revolves around a mother who abandoned her daughter 15 years ago who suddenly shows up with two other daughters. Ivy, the unwanted child, is a great protagonist. I felt she took too long to become assertive with the people trying to control her life. The relationship was a bit of insta-love but they had great chemisty. Also, Ivy's best friend Claire was my favorite character. She was so straight forward and confident in who she was. She was the most interesting character.
The Haunted School by R.L. Stine
3 STAR RATING
The idea of a parallel universe was interested but poorly executed. The reveal was completely lackluster and I still didn't fully understand how and why they were stuck there. And the protagonist was unlikable. Tommy is so annoying, I get why his classmates don't warm up to him. I wasn't rooting for him at all.
Zom-B Goddess by Darren Shan
5 STAR RATING
This was such a great end to this series. B is trying with all her might to overcome her enemies and stop the end of mankind. This is the final showdown, the one that'll decide the fate of every zombie or every human. She's on the side of humanity but the odds are severely stacked against her. The twist ending took me a bit by surprise but I was all for it. Of course it ended that way, with the last phrase being "the beginning". If the author wanted to start this series up again, I would love to read it.
Forty Acres by Dwayne Alexander Smith
BOOK CLUB READ
3 STAR RATING
This is such an interesting idea for a novel but it didn't carry it through. I feel like this is obviously a first novel with little edits. The finale lacked tension but made up for it in the last chapter. I loved the ambiguous ending. It allows the reader the create their own conclusion. The short chapter lengths ruined the pacing of this "thriller", which doesn't do much thrilling. But I still enjoyed the book. I can see this bring adapted into a show or mini series.
Lola Gets a Cat by Anna McQuinn
4 STAR RATING
I am Lola and Lola is me. Despite the fact that at her age I was extremely afraid of cats. The book follows Lola proving she can take care of a kitten and then adopting one. It's a cute book and can be useful for parents with children who want a pet of their own. The art is adorable. Great book for preschool kids.