It's all on the line people. My job's grand prize for summer reading is a PAID DAY OFF. I need this. I WANT THIS. I've been reading like a madwoman to secure my top spot. Unfortunately, it's a random picking. But the more I read, the more chances I have of winning.
A Dog's Purpose by W. Bruce Cameron
4 STAR RATING
Again, I watched the movie before reading the book. But to be fair, I did not know it was a book until after seeing the DVD. I'm torn between which one was better. On one hand, the film was cute and well acted and had a happy ending. The book felt a bit dragged out and the ending had me in tears. So it all depends on what mood you're in. The voice actor did a great job with Bailey. I was lulled into a trance by his unassuming voice. The time he spent with Ethan went on a little longer than I would have liked. I found his other lives to be way more interesting. It was fun to see them reunite though. This is where the movie and book offer two different endings. The film made me happy and satisfied. The book made me cry and also satisfied. Both offered a feel good experience.
I Will Not Eat You by Adam Lehrhaupt
3 STAR RATING
This dragon sucks at being a dragon. I'm glad he didn't eat the boy and they know play but the last line says that could change in a heartbeat. The sequel will have Theodore finally devouring the boy, killing the playful mood lol.
The Diary of a Teenage Girl by Phoebe Gloeckner
2 STAR RATING
This book is very triggering but I still found it interesting and not traumatizing enough to stop reading it. Minnie is not a likable or relatable character. She's the worse stereotypes of a teenager rolled into one. Despite everyone around her taking advantage of her and abusing her, I found it hard to feel sympathy. It's a dramatization of real life events but I oddly was disconnected from it. I enjoyed the movie adaptation much more.
Friend or Foe? by John Sobol
5 STAR RATING
The title questions remains unanswered in this children's book. The mouse wants to know if the cat is friend or foe. But the mouse never finds out as the cat and mouse switch their homes by accident. The art is great and helps add to the tone of the story. I don't see this as a very good bedtime story though. It'll push your kid into an early quarter-life crisis.
Welcome to Night Vale by Joseph Fink and Jeffrey Cranor
5 STAR RATING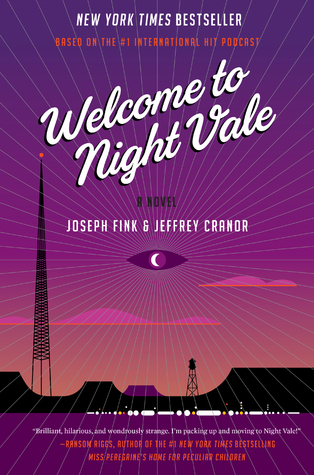 I had heard about this podcast but never listened to it. This book makes me wanna binge listen to the entire thing. This was deliciously strange and disturbing and hilarious. I loved the voice actor, which I think is the same one from the podcast. He really had me engaged in the story and thoroughly creeped out. My favorite chapters where the radio broadcasts from Cecil's show. The story itself was amazing but I felt it lost some steam towards the end. Diane and Jackie were strong protagonists that had me rooting for them to solve the mystery.