I am way behind on updating this blog. I've been reading like a maniac so bear with me as I dump a shit ton of books onto this page.
How to Be an Elephant by Katherine Roy
5 STAR RATING
I mistook this as a picture book but it's still a very easy read. The art is beyond beautiful. The author has a way of writing that doesn't feel like an information bomb. It's flows well and goes with the pictures. I'd recommend for a classroom environment or to be added to any kind of teaching lesson plan. This is a great book for youngsters who want to work with wild animals.
Neighborhood Sharks
by Katherine Roy
3 STAR RATING
The art is beautiful as always. I would recommend this book for research purposes. It's also a great book for older kids who are interested in marine life. This author is on my radar now. I'll be reading any nonfiction books she releases.
Windows by Julia Denos
2 STAR RATING
I didn't really like this one. The art didn't connect with me. I liked following the kid as he walked his dog around the neighborhood. But the whole concept of windows and looking through them kinda creeped me out. The last two pages were adorable though. I'd recommend this for a finishing book at story time.
A Night Out with Mama by Quvenzhane Wallis
4 STAR RATING
The art really brings this night out to life. I love that it emphasized how normal her family life is and that she just wants to have fun at the Oscars. It's never said where she's going but it could be a cool conversation starter for a parent to tell their kids who she is and what the book is actually referring to. I see this for an older child reading this on their own. It might also translate well to a themed story-time.
Doctor Strange vol 3: Blood in the Aether by Jason Aaron
4 STAR RATING
I loved the different villains that were showcased in this volume. The weakest link was Satana and the stand out star was The Orb. He was just the perfect amount of evilness and ridiculousness. I felt that the story itself lacked structure or purpose. Obviously, magic wasn't going to be wiped out completely. I just wish the conflict had lasted more than a couple of volumes. It does leave Strange available to save Wong from Mr. Misery. Wong better not become a causality of Strange's mistakes.
Demon vol 1 by Jason Shiga
4 STAR RATING
This is such a weird book. Jimmy can't die. Every time he kills himself, he possesses the next closest body. He comes to the conclusion that he's a demon and he's determined to figure out how he became one. The art leads itself to a simple style, letting you focus on the absurdity of the plot.
Assassination Classroom vol 18 by Yusei Matsui
3 STAR RATING
This was such a filler volume but I liked it regardless. The cute Valentine's day scenes had me cheesing hard. I really want Nagisa and Kayano to get together.
Norse Mythology by Neil Gaiman
5 STAR RATING
I just love the author's voice. It's great for character acting but when he's just straight up narrating, it's so smooth and soothing. I only know of Norse gods through Marvel comic movies. This is his retelling of the original tales of the old gods. Odin, Thor, and Loki are the key players and they're all well written. I loved each and every story that Gaiman chose to tell. Even though this is an adult novel, I can see parents reading a story or two to their kids. It's a book for everyone.
Columbine by Dave Cullen
3 STAR RATING
Obviously, the subject matter is a tough one. And it's even sadder when you think about how nothing has really changed, the danger has only escalated. Cullen does his best to paint the killers as plainly as he can, not letting what they did color his words. It's clear that Eric was the leader and the one with murderous intent from the beginning. Dylan dealt with his depression and suicidal thoughts in the worst way possible. And everyone else who was affected by these actions were given their voice in this book. I can see why this is read in classrooms. It's a conversation that we should always be having, even when we're afraid to.
Always and Forever, Lara Jean by Jenny Han
4 STAR RATING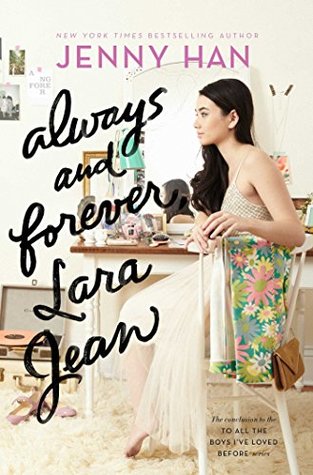 This was a great conclusion to the Lara Jean trilogy. I feel like she's had an amazing character arc and realistic character development. Her relationship with Peter was so sweet and sad. I imagine it's very hard to love someone and want to be with them but the future doesn't cooperate with your plans. They are going to different colleges and Lara jean isn't sure if their relationship will last. She's also dealing with her dad's relationship with their neighbor and what that means for the family dynamic. I just really like Lara Jean. She's very likable and relatable. She doesn't change herself for her boyfriend. She's always true to herself and I think that's a great message for young women to see in their literature.